The Caldwell Public Library provides a wealth of resources, information, and services for job seekers, businesses owners, and people looking to advance their knowledge and skills. All are free, but some may require your library card for access. Learn more about getting a Caldwell Public Library card here.
Job Seekers
Comprehensive collection of online job and career-related tools for job seekers that delivers everything needed to find, prepare for, apply to, and get hired into their ideal positions.
Skills to Succeed Academy
Created specifically to meet the needs of job seekers, Skills to Succeed Academy offers 36 bite-sized, interactive modules. Jobseekers will be guided on the entire journey, from choosing the right career and finding a job to achieving success in the workplace.
Brainfuse Help Now
Visit the Adult Learning Center for GED prep, U.S citizenship test prep, resume assistance, Microsoft Office support, and Career Resources which lists popular job search links. Microsoft Office support allows patrons to ask questions about Excel, Word and PowerPoint. The Writing Lab, Send QuestionCenter and the Skills Building are also included in the Adult Learning Centersuite.
Business Owners
Reference Solutions is a powerful online reference and research tool providing library cardholders instant, real-time access to accurate, in-depth information on U.S. businesses and U.S. residents.
Reference Solutions makes it faster and easier to find new business opportunities, research executives and companies, find news articles, conduct job searches, research papers, locate addresses and phone numbers, conduct market research and much more.
SCORE, the nation's largest network of volunteer, expert business mentors, is dedicated to helping small businesses get off the ground, grow and achieve their goals. Since 1964, we have provided education and mentorship to more than 11 million entrepreneurs.
​
SCORE provides mentoring, webinars and courses on demand, library of online resources, and local events.
Small Business Reference Center
This database offers a wide variety of information on small business and entrepreneurial subject areas, common business types, a help and advice section, and provides information on how to create business plans that lead to successful funding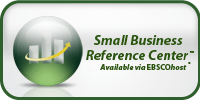 New Jersey Economic Development Authority
The New Jersey Economic Development Authority is committed to ensuring that businesses have the tools & resources they need to grow & thrive in New Jersey.
NJEDA provides access to capital, including tax-exempt and taxable bond financing, loans, loan guarantees, and business and tax incentives.
Skills & Career Advancement
Prepare for your next job or strengthen your business today with free webinars.
Free training, tools, and resources to help you grow your skills, career, or business.
Business Source Elite offers full text for more than 1,110 business publications and contains expanded PDF backfiles for more than 153 titles (back to 1985 or the first issue published for that journal). More than 10,150 substantial company profiles from MarketLine are also included.
Other Business Services
This robust resource provides ultimate coverage for full-text business publications, on a regional level, for the United States and Canadian provinces. Key resources include newspapers, radio & TV news transcripts, trade publications, magazines and newswires, with full-text content coverage spanning over 22 years.